Product Overview
COVID-19 PodcastS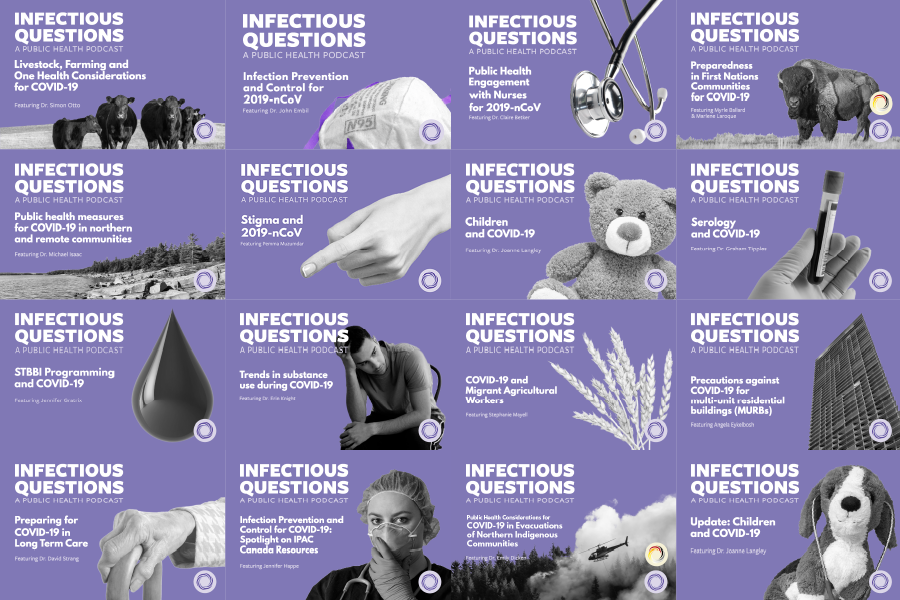 This year, 20 of NCCID's podcast episodes focused on the COVID-19 pandemic. Episodes cover topics of interest, including testing, stigma, the preparedness of various healthcare settings and at-risk populations, public health programming and resources. Since February, the COVID-19-related podcast episodes have been downloaded over 16,000 times.
Check out Infectious Questions here
PHAC Modelling and COVID-19 Vaccine Webinars
Alongside other ongoing webinar projects, we supported Canada's Public Health Agency on several webinars concerning mathematical modelling and the NACI COVID-19 vaccine recommendations for the Pfizer-BioNTech and Moderna vaccines. NCCID also found great success with thousands joining project manager Aleksandra Wierzbowski for our annual seasonal influenza recommendations webinar. Click the images below to learn more about some of last year's most popular webinars.
The Canadian Public Health Laboratory Network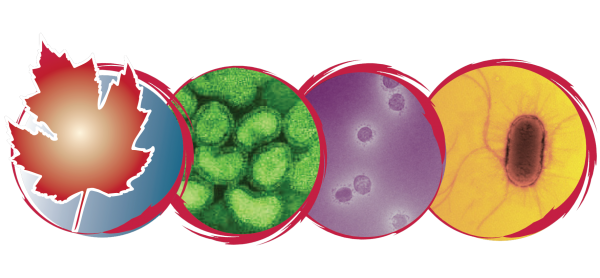 2020 also marked NCCID becoming home to the Canadian Public Health Laboratory Network (CPHLN). We continue to update this page as CPHLN provides us resources and content to post regularly.
Established in 2001, CPHLN is a national association of public health laboratory professionals that acts as a unified voice for federal and provincial member laboratories.
The role of CPHLN is to provide a forum for public health laboratory leaders to share knowledge in an atmosphere of trust. CPHLN leverages its combined strength to champion efforts in order to provide rapid and coordinated nationwide laboratory response to emerging and re-emerging communicable diseases such as SARS and pandemic influenza.
TB Stories
Project manager Shivoan Balakumar produced this 4-episode docuseries following a 2019 TB outbreak in a small, northern First Nations community.
The series delivers:
in-depth stories of TB survivors and front line workers;
educational information on promising strategies for an effective community outbreak response; and
insights into what is needed to end TB in northern First Nations communities.
Listen to all of the episodes here
New Resources and Publications
A new focus of NCCID, we added the Mathematical Modelling project stream. It houses several newly developed PHAC models that cover modules of interest related to COVID-19. You will also find our new Synergies webinar series – where collaborators share research evidence, context-based insights, information on data availability, and practical tools to develop better infectious disease models and evidence-based public health policies for the control of infectious diseases.
NCCID also supported PHAC in publishing several models during the pandemic. Our support will continue into the new year, where we will continue to publish models to our PHAC modelling page.
Project manager, Harpa Isfeld-Kiely, continues to manage Modelling for Public Health (mod4PH), a multidisciplinary discussion forum of over 200 members to promote greater clarity and understanding of mathematical modelling for public health decision making.
Alongside all COVID-19-related content, NCCID continued to create and publish a variety of resources throughout the year. Check out our two newest modelling videos below.
You'll find recently published resources, including papers, infographics, reports, evidence summaries, and case studies in the website's publications section. Click the images below to learn more about some of last year's most popular publications.
Measuring What Counts in the Midst of the COVID-19 Pandemic: Equity Indicators for Public Health
Corrections and correctional facilities as a public health setting in Canada
Opportunities for Public Health to Reduce the Burden of COVID-19 among Migrant Agricultural Workers in Canada
Student opportunities and mentorship continued as a major priority for NCCID this year as we saw 12 students join or continue their work with us in 2020. This interactive Kumu relationship map offers a visual representation of NCCID's student network and the work they completed while with us in the past five years.
Mariana Echeverri Álvarez and Manuela Pérez Orduz joined us from Colombia (Universidad Pontificia Bolivariana) and had an exciting year in Canada. The pandemic extended their stay in Canada for months as they could not fly home due to travel restrictions. They continue to work with us into this new year, and we are very thankful for their continued work for NCCID. They have both been extremely optimistic despite the challenging situation they faced. Below you will find several of the many projects they contributed to.
Glossary of Terms: Understanding the Regulatory Review of Drug Therapies
Understanding the Effects of Communications and Media During the COVID-19 Pandemic
2020 Sexually Transmitted and Blood-Borne Infection (STBBI) and Harm Reduction Resources
Presentations and ConFerences
With Canada-wide travel restrictions and many provinces adopting their own regulations, COVID-19 drastically alerted the format of many public health events and conferences. However, several conferences, including CPHA, shifted to a virtual format where NCCID could submit resources and presentations. Several of our project managers were able to present at this year's Public Health 2020 conference. You can watch their presentations below.