Established in 2001, the Canadian Public Health Laboratory Network (CPHLN) is a national association of public health laboratory professionals which acts as a unified voice for federal and provincial member laboratories.
The role of CPHLN is to provide a forum for public health laboratory leaders to share knowledge in an atmosphere of trust. CPHLN leverages its combined strength to champion efforts in order to provide rapid and coordinated nationwide laboratory response to emerging and re-emerging communicable diseases such as SARS and pandemic influenza.
CPHLN recognizes the responsibility of public health laboratories (PHL) to safeguard the health of Canadians through the provision of surveillance and response capabilities which serve as the cornerstone for all public health professionals.
Vision
A healthier Canada through connected public health laboratories.
Mission
To strengthen Canada's public health system through coordinated laboratory services and leadership.
Mandate
To assure an integrated public health laboratory network response to infectious diseases that encompasses OneHealth.
CPHLN Network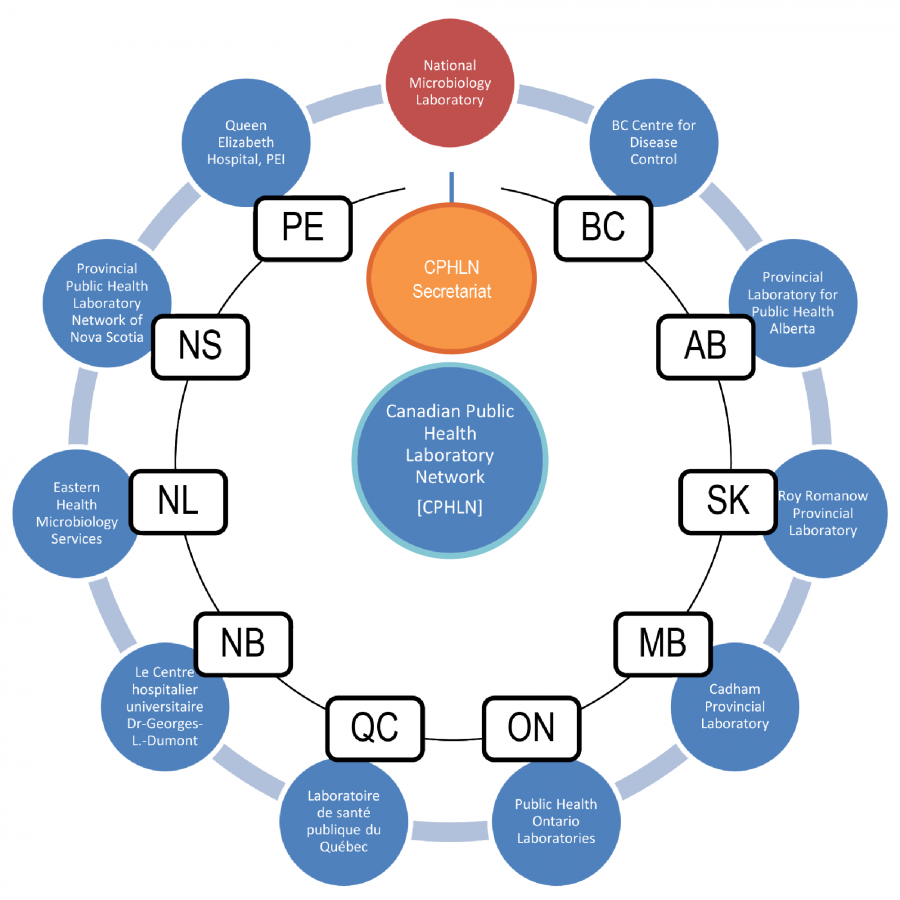 Resources
Letter to CPHLN Members
CPHLN Statement on VITEK® 2 bioART
Monkeypox
CPHLN Best Practices for Responding to Monkeypox Cases in Canada
COVID-19
SARS-CoV-2 variants: National definitions, classifications and public health actions
CanCOGeN Interim Recommendations for Naming, Identifying, and Reporting SARS-CoV-2 Variants of Concern
Canadian national COVID-19 genomics surveillance priorities for existing and emerging variants of concern
Statement on the Distribution of COVID-19 Point-of-Care Supplies
ReVi Position Statement on POC Serology
CPHLN Protocol for Microbiological Investigations of Emerging Respiratory Pathogens, Including Severe Acute Respiratory Infections
Canadian Public Health Laboratory Network Best Practices for COVID-19
Laboratory Response Checklist For Infectious Disease Outbreaks
Laboratory Response Checklist Review Table (Download)
Interim Guidance for Acute Healthcare Settings
Corman Diagnostic Detection of 2019-nCoV by real-time RT-PCR
Guidance Documents