---
Reaching underserved populations: leveraging new testing technologies
New diagnostic technologies for STBBIs have the potential to improve timely diagnosis and treatment and expand testing in underserved populations by offering a solution to rethink service delivery models with more flexible, contextually adapted, and culturally relevant programs. Explore NCCID resources to learn more about the new technologies for STBBI testing in Canada and elsewhere, and the program options in which they have been integrated to improve testing in underserved populations.  
---
A Provincial Antimicrobial Stewardship Program: Successes and Challenges in Alberta
Worldwide, antimicrobial resistance has emerged as a serious public health threat. In this case study, we describe the processes and structures put in place by Alberta Health Services (AHS) to support and maintain coordinated antimicrobial stewardship programs in the province.
---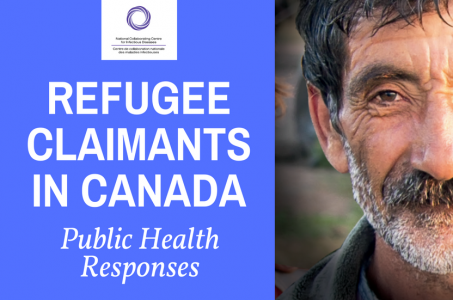 Public health responses for refugee claimants
NCCID is collecting evidence on public health responses for refugee claimants (including asylum seekers) for the Canadian context. Questions or comments? Please feel free to share with us. Contact Zeeshan Qadar, Project Manager, at 204-318-2582 or qadarsmz@umanitoba.ca.
recent refugee health publications from NCCID
Welcoming Refugees: Niagara Region's Guide for Primary Care
In this case study, we describe the process and planning done by a dedicated team in the Niagara Region, as an example of public health preparation for refugees that could be adapted in other parts of the country.
Integrated LTBI Care for Refugees: Successes & Challenges at BridgeCare Clinic in Winnipeg
In this case study, we share the story of the success of BridgeCare Clinic, a model of integrated TB services for government-assisted refugees for its approach to improving latent tuberculosis infection (LTBI) treatment completion outcomes in priority populations.