Time & Date
Tuesday, April 19th, 2022
2:00 p.m. – 4:00 p.m Central daylight time (presented in English only)
Experts available for discussion: Dr. Lilia Yumagulova, Dr. Emily Dicken & Darlene Yellow Old Woman-Munro
Synopsis
The National Collaborating Centres for Public Health undertook the Long-Term Evacuees Project to explore the role of public health to address the long-term health and social impacts of evacuations due to natural disasters. The project included environmental and literature scans and key informant interviews, and community-based research. Community-based research centered on the lived experience of two First Nations communities – Ashcroft Indian Band and Siksika First Nation – that had recently experienced natural disasters. This webinar will present the researchers' findings from two case studies centering on community voices during evacuation and their return journeys to their home communities, and implications for public health. Key takeaways will focus on practical applications to public health practice beyond the usual short-term emergency response activities
Learning Outcomes
Understand the effects of evacuations for First Nations communities through two case studies: the Ashcroft Indian Band following the Elephant Hill Wildfire in 2017, and the Siksika Nations following the Bow River flood in 2013.
Determine current and potential roles for public health to support long-term evacuees, beyond short-term emergency preparedness and response.
Identify potential collaborations for public health with communities to address the long-term health and social impacts of evacuations due to natural disasters.
The presentation is followed by a Q&A session.
Speakers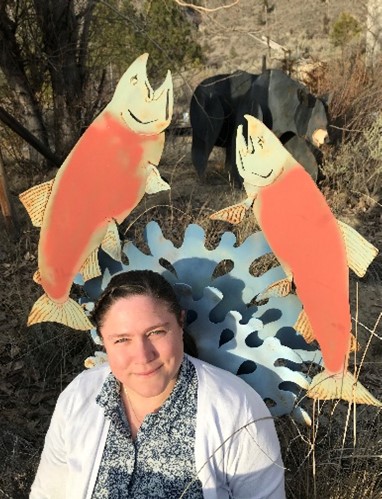 As an Indigenous scholar and practitioner in Emergency Management, Dr. Emily Dicken has over 15 years of experience and has held roles in organizations such as North Shore Emergency Management, First Nations Health Authority and Emergency Management BC. Across all areas of her work, Emily seeks to understand colonialism as an unnatural and enduring disaster impacting Indigenous communities. When not working, Emily can be found enjoying time in the Coast Mountains with her husband Jeff and their two young sons, Keegan and Bowen.
Dr. Lilia Yumagulova is a Bashkir woman with degrees in engineering and risk analysis and a PhD in resilience planning. With over 20 years of work experience with government, NGOs, media, Indigenous communities and supranational organizations in Europe and North America, Lilia is the Program Director for the Preparing Our Home Program that empowers Indigenous youth leadership in community resilience.
Darlene Yellow Old Woman-Munro is a Siksika Elder born and raised on the Siksika Nation; she is the oldest of 10 children. Darlene has served her community through many roles as a community nurse, Treaty 7 Zone Director, Medical Services Branch and Chief. In 2013, Darlene came out of semi-retirement to assist Siksika Nation with the flood disaster as a night shift volunteer and became Manager of Dancing Deer Disaster Recovery Program and Project Manager for Community Wellness (Psychosocial) Recovery Program.