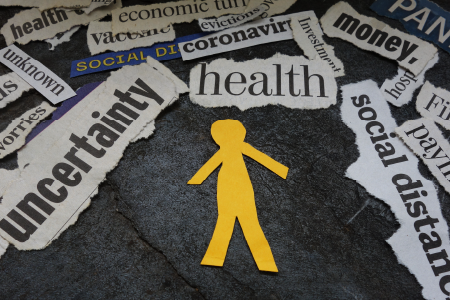 Context: This is a two-year project financed by the CIHR ($500,000) and carried out by an interdisciplinary team from the Université de Sherbrooke and other national and international partners. The Québec investigation is a supplement to this project, which is funded by the seven regional public health departments.
Why: Like other types of catastrophes, the pandemic is likely to trigger serious consequences in the population in the short, medium and long terms. It is important to fully grasp the nature, scope and distribution of the psychosocial impacts of the pandemic and the related risk and protection factors, to support decision making and public health interventions.
Who: Representative sample of 6,261 adults living in one of the seven participating social-health regions of Québec (Mauricie–Centre-du-Québec, Estrie, Montréal, Laval, Lanaudière, Laurentides, Montérégie), with a recruitment goal of 750 to 1,000 adults per region. These regions, all located in central and southern Québec, comprise just over 70% of the entire population of Québec. For information purposes, for a random sample of 6,261 participants, the margin of error is 1.24% within a confidence interval of 95% (19 times out of 20).
| Region | n |
| --- | --- |
| Mauricie-CDQ | 751 |
| Estrie | 750 |
| Montréal | 1003 |
| Laval | 751 |
| Lanaudière | 1003 |
| Laurentides | 1001 |
| Montérégie | 1002 |
| Total | 6261 |
Why: The psychological and behavioural response during the pandemic is studied, along with its associations with various risk and protection factors, some related to communication strategies and media discourse (see themes addressed in Appendix 1). The questionnaire contains just over 80 closed questions (average completion time: 21 minutes).
When: The data were collected from September 4 to 14, 2020, in seven regions. This investigation follows:
An initial investigation conducted from April 8 to 11, 2020, with 600 Canadian adults (300 in Québec)1
A second investigation conducted from May 29 to June 12, 2020, with 1,501 Canadian adults (435 in Québec, including 321 in the seven regions that participated in the September 2020 investigation)
How: All the participants of this study are drawn from the Léger web panel. They were recruited using a variety of strategies (random recruitment, in social media or through campaigns or partners), in order to accurately represent the population. For maximum representativity, the data for the seven regions were weighted based on age, sex, language and region of residence.
---
Publications from grant work