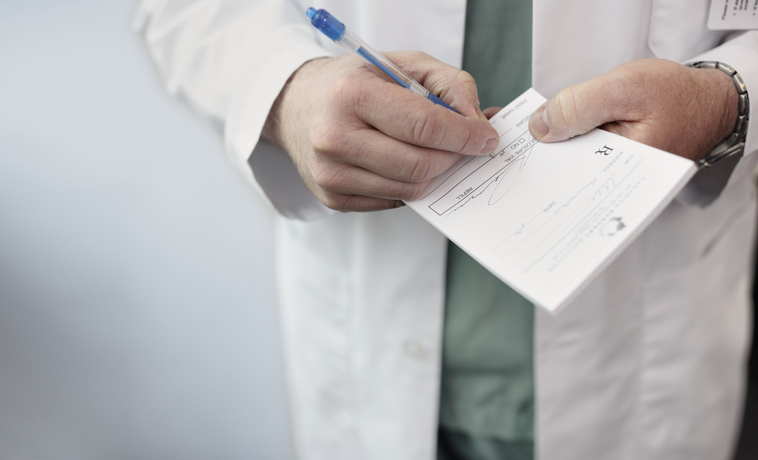 Antimicrobial resistance (AMR) refers to changes in infectious organisms (viruses, bacteria, fungi and parasites) so that they can no longer be controlled or treated effectively by standard drugs such as antibiotics, antivirals and antifungals.
AMR is an increasingly serious threat to public health and NCCID is working with partners across the country to provide evidence and resources on AMR surveillance and antimicrobial use (AMU).
Antibiotic Awareness Week
Unnecessary use and misuse of antibiotics and other antimicrobials is increasing the serious problem of antimicrobial resistance (AMR) in Canada and around the world. Resistant microbes make infections much harder or impossible to treat. Antimicrobial Awareness Week (formerly Antibiotic Awareness Week), held November 18 – 24 every year, promotes informed, careful use of these life-saving medicines to help keep them working for future generations.
Resources
Viral Prescription Pads
Provides information about symptomatic relief for infections and indicates when patients should consider a return visit. To be used with patients (adults and children) who have a suspected viral infection.
Download below or order free copies of prescription pads, here.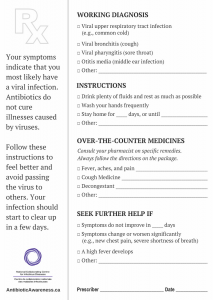 Surveillance of Antimicrobial Resistance and Antimicrobial Utilization in Canada
REPORT
This report summarizes the results of a 2012–2013 project sponsored by the National Collaborating Centre for Infectious Diseases. The task set forth was both to assess the current status of surveillance of antibiotic or antimicrobial use (AMU) and antimicrobial resistance (AMR) in Canada, and to provide recommendations to advance Canadian surveillance. This project had three main components:
A systematic literature search was performed to identify, describe and evaluate Canadian and international AMR and AMU surveillance programs, with analysis of their attributes. A structured evaluation method was applied to exemplar Canadian and international systems, and a more detailed analysis review of two models of surveillance (Denmark's DANMAP program and the European Centre for Disease Control and Prevention's EARS-Net and ESAC-Net programs) was performed to identify their relevance, strengths and weaknesses in potential application to a Canadian context.
A semi-structured interview protocol surveyed Canadian experts from key stakeholder groups (including but not limited to public health and infectious diseases physicians, physician and PhD microbiologists, antimicrobial pharmacists, veterinarians, and representatives of the food animal industry) to ensure a full understanding of current functioning Canadian AMR and AMU surveillance in all sectors, to identify perceived strengths, and weaknesses, and to identify perceived needs.
A review of previous Canadian antimicrobial resistance and surveillance consensus meetings, reports and recommendations to inform the development of an actionable set of recommendations.
Putting the Pieces Together: A National Action Plan on Antimicrobial Stewardship
ACTION PLAN
This document provides a roadmap for improving antimicrobial stewardship (AMS) in Canada and lays out a series of 10 areas for a national Action Plan on antimicrobial stewardship in which governments, healthcare organizations and professionals, civil society groups and the public can collaborate to preserve the effectiveness of antimicrobial drugs such as antibiotics. It is built on the work of 50 experts, key influencers and stakeholders in the field of antimicrobial stewardship (AMS) and antimicrobial resistance (AMR) who met at a national roundtable in June 2016.
---
Notable Publications