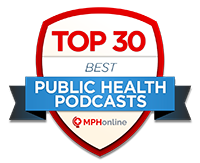 NCCID continues to contribute resources for public health practitioners during the current COVID-19 pandemic. We're excited and grateful that MPH Online has ranked Infectious Questions in their top 30 public health podcasts of 2020.
As we continue producing episodes of Infectious Questions during this challenging time for public health, we understand the massive physical and emotional toll on practitioners. Infectious Questions offers public health and healthcare workers with concise information on current public health issues. We speak with public health experts, in a Q+A format, to answer our listeners' most pressing questions. We know time is a valuable commodity, especially during a crisis, so we do our best to provide concise information briefly. Most episodes range between 10 to 20 minutes and answer several questions submitted by listeners. We also transcribe each episode in English and French.
We are currently producing weekly podcasts for the COVID-19 pandemic. Topics include:
---
MPH Online is an independent online resource for public health students. They offer expert information and guidance regarding public health degrees, with an emphasis on the Master's in Public Health (MPH). They rank and review the best public health programs, scholarship and financial aid information for public health students, and guides to a variety of public health careers.
Check out the full list of MPH Online's best public health podcasts of 2020 here.