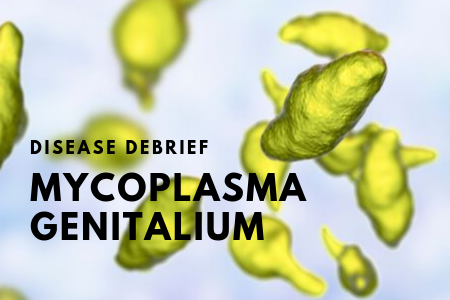 The purpose of this disease debrief is to communicate evidence that supports M. genitalium as an emerging Sexually Transmitted Infection (STI) and the concerns regarding potential antibiotic-resistant strains.
Risk factors for STIs are broad and outlined in Section 2: Canadian Guidelines on Sexually Transmitted Infections – Primary care and sexually transmitted infections.
NCCID Disease Debriefs provide Canadian public health practitioners and clinicians with up-to-date essential information on prominent infectious diseases for Canadian public health practice. While not a formal literature review, information is gathered from key sources including the Public Health Agency of Canada (PHAC), the USA Centers for Disease Control and Prevention (CDC), the World Health Organization (WHO) and peer reviewed literature.
Questions, comments and suggestions regarding this debrief are most welcome and can be sent to Sheikh.Qadar@umanitoba.ca.
What are Disease Debriefs? To find out more about how information is collected, see our page dedicated to the Disease Debriefs.
What are important characteristics of Mycoplasma genitalium?
CAUSE
Mycoplasma genitalium (M. genitalium, or Mgen) is a small facultative anaerobic bacterium and a risk group 2 pathogen. It is from the class Mollicutes and the family Mycoplasmataceae. This pathogen was first isolated in 1981, however, due to its difficult nature in being isolated, it has not been studied in-depth, and many questions regarding its natural history of infection and length of incubation period remains uncertain. Originally M. genitalium was not considered to be a pathogenic organism, however current evidence illustrates associations with disease outcomes such as urethritis, cervicitis, pelvic inflammatory disease, pre-term birth, and female infertility. M. genitalium is an emerging sexually transmitted pathogen, for which antimicrobial resistance is a serious concern.
SIGNS, SYMPTOMS AND ASSOCIATED DISEASE OUTCOMES
M. genitalium infections can be asymptomatic or symptomatic, and evidence has suggested persistent infections do occur. A study done in a British population found that over 90% of males and over 55% of females with M. genitalium did not report any symptoms (4). This indicates that routine testing would be necessary to manage asymptomatic infections.
Importantly, a systematic review and meta-analysis found that individuals with M. genitalium were twice as likely to also be HIV infected. Causation has not been established (5).
The following are associated disease outcomes of M. genitalium infection.
Females: Infections include symptoms such as vaginal discharge, inter-menstrual or post-coital bleeding and dysuria. Also, an association between M. genitalium and pelvic inflammatory disease and cervicitis has been shown. Literature has shown that there is a significant association between M. genitalium and outcomes such as female infertility and preterm-birth.
Males: M. genitalium is associated with urethritis. Those individuals with non-gonorrheal urethritis (NGU) and non-chlamydial NGU (NCNGU) tend to have a higher prevalence of M. genitalium.
TRANSMISSION/PREVENTION
M. genitalium is sexually transmitted through direct mucosal contact. It has mainly been detected in the genital tract, although some studies have shown low rates in the anal-rectal canal. To date, it has not been detected in any oral specimens (1). Therefore, it is suggested that genital infections are the most prevalent forms of infection. It has been recommended that condom use can reduce the risk of transmission to the genital tract.
Risk factors of M. genitalium infection can be found in Section 5-1: Canadian Guidelines on Sexually Transmitted Infections – Management and treatment of specific infections – Mycoplasma Genitalium Infections.
TREATMENT
Treatment of M. genitalium is outlined in Section 5-1: Canadian Guidelines on Sexually Transmitted Infections – Management and treatment of specific infections – Mycoplasma Genitalium Infections. These take into consideration the current knowledge surrounding antibiotic resistance trends in M. genitalium. Please check for local Provincial/Territorial/Jurisdictional guidelines or protocols.
TESTING
Current guidelines recommend testing only if an individual has persistent or recurrent urethritis, cervicitis or pelvic inflammatory disease regardless if treatment and tests for Gonorrhea and Chlamydia are negative. Current testing uses a nucleic acid amplification test. The availability of this test may vary across provinces and territories. The National Microbiology Laboratory will test M. genitalium positive samples for detection of mutations that are associated with antimicrobial resistance. However, there are limited studies of the prevalence in Canada, and routine testing is not currently recommended.
Information on sample submission can be found here:
Government of Canada Guide to Services: Molecular Detection of Mutations Associated with Antimicrobial Resistance
EPIDEMIOLOGY
An international meta-analysis of 112 studies has shown the prevalence of M. genitalium is 1-6% in women and 1-4% in men (6). Those who are in high-risk populations could have prevalence rates of up to 38% (6). A Canadian study consisting of multiple sites found prevalence rates of 5.4% for women (7). Two individual studies looking at prevalence rates in individuals seeking testing for STIs have been done in Canada. A study out of Toronto used a cohort of men and women attending a sexual health clinic. Individuals were screened via a urine test. They found that 3.2% of females and 4.5% of males in their cohort were positive for M. genitalium (8). A study done in Alberta used a cohort of patients from two STI clinics. Males were screened via urine tests, and women were screened either with a urine test or an endocervical or vaginal swab test. This study found prevalence rates of 7.2% in females and 5.3% in males (9).
What are concerns surrounding M. genitalium infections?
ANTIMICROBIAL RESISTANCE
A major concern for M. genitalium as an emerging pathogen is antimicrobial resistance. The Canadian multi-site study found that a significant portion of samples tested had resistance mutation to macrolides, as well as a portion also had resistance mutations to fluoroquinolones. Macrolide resistance was also observed in studies from Toronto and Alberta. Antimicrobial resistance in M. genitalium will need to be monitored closely in the future.
OTHER INFORMATION
The following resources contain additional information regarding the emerging pathogen M. genitalium.
REFERENCES
Manhart LE, Kay N. 2010. Mycoplasma genitalium: Is it a sexually transmitted pathogen? Curr Infect Dis Rep 12:306–313.
Gnanadurai R, Fifer H. 2019. Mycoplasma genitalium: A Review. Microbiology.
Daley G, Russell D, Tabrizi S, McBride J. 2014. Mycoplasma genitalium: a review. Int J STD AIDS 25:475–487.
Sonnenberg P, Ison CA, Clifton S, Field N, Tanton C, Soldan K, Beddows S, Alexander S, Khanom R, Saunders P, Copas AJ, Wellings K, Mercer CH, Johnson AM. Epidemiology of Mycoplasma genitalium in British men and women aged 16-44 years: evidence from the third National Survey of Sexual Attitudes and Lifestyles (Natsal-3).
Napierala Mavedzenge S, Weiss HA. 2009. Association of Mycoplasma genitalium and HIV infection: a systematic review and meta-analysis. AIDS 23:611–620.
Manhart LE, Broad JM, Golden MR. 2011. Mycoplasma genitalium: Should We Treat and How? Clin Infect Dis 53:S129–S142.
Chernesky MA, Jang D, Martin I, Hoang LMN, Naidu P, Levett PN, Wylie J, Rebbapragada A, Ratnam S, Smieja M, Weinbaum B, Getman D, Canadian MG Study Group. 2017. Mycoplasma genitalium Antibiotic Resistance–Mediating Mutations in Canadian Women With or Without Chlamydia Trachomatis Infection. Sex Transm Dis 44:433–435.
Gesink D, Sarai C, Mph R, Mlt CS, Zittermann S, Csw LM, Juzkiw J, Jamieson H, Awcca R, Ma JG, Singh S, Skov J, Md J, Dmedsci P, Allen V. 2016. Mycoplasma genitalium in Toronto, Ont Estimates of prevalence and macrolide resistance.
Gratrix J, Plitt S, Turnbull L, Smyczek P, Brandley J, Scarrott R, Naidu P, Parker P, Blore B, Bull A, Shokoples S, Bertholet L, Martin I, Chernesky M, Read R, Singh A. 2017. Prevalence and antibiotic resistance of Mycoplasma genitalium among STI clinic attendees in Western Canada: a cross-sectional analysis. BMJ Open 7:16300.
Singh A, Labbe A. 5 things to know about Mycoplasma genitalium infection. CMAJ 2019 January 28;191:E103